Football, it's the weekend.
Do you bel
I
eve in the Illini? Well, maybe, sort of, but not just yet. Their defense is shotty at best, but the offense looks pretty desce, thus far against Michigan State. Hopefully they can pull one out at home and move up in their Big Ten opener. Naw, prob. not.

Speaking of Big Ten football, my Indiana Hoos' have a week off to prepare for Wisconsin, who is going to get smoked tonight against Michigan, btw, so I'm calling an upset. Coach Hep is starting to get some real players to sign with IU. Matt Mayberry (6'2"/205/4.3) orally committed to Indiana earlier this week and is tearing up the Chicago high school ranks. He picked Indiana over Ok State and Georgia, so that's new territory for Indiana. Usually we get players over Nichols State and Southern Missouri... O you get the idea. Ticket sales are up big time, and people actually care. Indiana will go to a bowl game this year and within the next three years firmly plant themselves in the middle of the big ten. That's improvement people. Don't bash it. A series of 7-4 seasons with an occasional home win over a Michigan or Purdue is the true measure of success for IU. Ger er' done.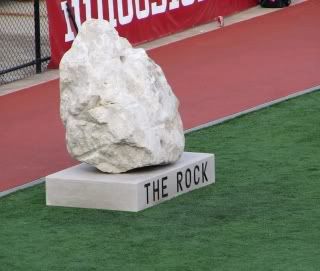 As excited as I am for the Hoos', there are a few things that Coach Hep has done at IU that I'm not too stoked about. The rock is one of them. Apparently all of the players touch the piece of stone before each game and Memorial Stadium is now known as the Rock. Uhh...Southern Miss allready had this going, so it's a total ripoff. I'll get some picks when I head down for homecoming.

Explanation: The Rock

The Sox are heading downhill faster than Charlie Sheen backstage at a Motley Crue concert. Lets go Hafner.

I thought Khabibulin was supposed to be the shit, what gives?

Some skank prof. at Iowa is bitching about the pink walls in the visiting lockeroom at Kinnick Stadium. Common, you know your opponet will be super psyched to see pink walls pre-game, that's hilarious.

Damn right that fat ass Curry better take a DNA test. The Bulls dropped HUGE money on Chandler so Curry's heart better be full force for 6-10 years before they give him the paper.

My homeboy and yours Adewale is set to go against the Bungles. Lets go Bears!

No music today, there is a ton of shit on here, so go rock out. We're getting some major traffic here recently so keep it coming.