The Buick Rides Again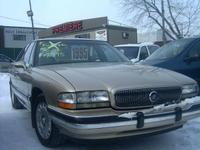 After a little run in with a drained battery, the Buick rides again. Sure, it's got fresh tires, but I'm starting to think it's time to get something new and make a car payment. One luxury of working for the man is having a little extra money to toss around monthy on a car. Maybe a year to two-year-old Impala? Who knows, we'll see. If you have any suggestions on a good used car that won't break the bank, feel free to drop a line. Not much of a weekend. Worked yesterday and was very tired today. Getting up tomorrow to ride, something that has been absent in my life and is missed big time.
Bears lost, go figure. Panthers lost too, which furthers my "New Orleans will win the Super Bowl" after what has happened conspiracy. The ole' Panthers run quite the boring, smashmouth — isn't it amazing how much smashmouth gets tossed around in today's NFL landscape — style of football. Their defense sucked. Sports Illustrated picked them to win it all, shows how much they know. Oh well, they're still better than the Bears. Hmmm, who to follow that doesn't stink it up?
Saints win Super Bowl XL, write that down.
The Daily Journal pulled in $54,400 for the Hurricane victims as of Saturday night at the "Big Help for the Big Easy." Probably go over $60,000 by tomorrow, which isn't to shabby for this little broke town. The called in Jenna (she won Survivor "something" and Ethan, he was also on one of those shows). Not a big deal being C-List celebs and all, but a big deal to this town.
I was gonna throw up a link for Granpa, but I forget. If you remember, e-mail me.
Wow, the Colts put it on the Ravens in the 2nd half. Indy is now my new favorite most team. No high school football game this Friday, thank god.
Better get in a Madden game online before bed.
NC-Kyle